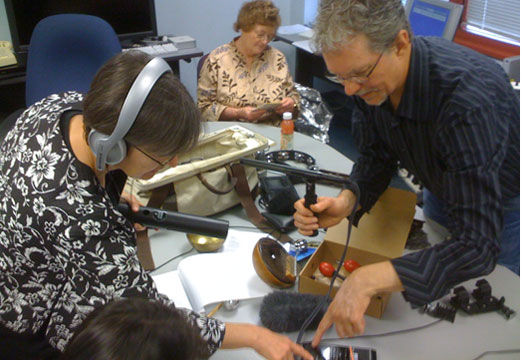 Faculty members is many disciplines have applied digital storytelling methods in their teaching in creative ways.  In these interviews they…
Storytelling Academy – Loughborough University
Applied Storytelling has become a key research strength at Loughborough over the past five years and one where we have an international reputation for excellence. We have been involved in over 20 projects of various sizes, ranging from a few thousand pounds to over a million pounds in value, funded by organisations as diverse as AHRC, NERC, ESRC, MRC, EPSRC, British Academy and the European Commission.
Patient Voices
Since 2003, Patient Voices has been unearthing and delivering insight from within organisations through storytelling. Patient Voice's worldwide reputation within the Healthcare sector is long-established and it is here that the unique techniques and rigorous processes of extracting and processing individuals' stories, have been honed. Today, Patient Voices' methodologies are recognised by the National Audit Office, among many other major institutions, as a valid and uniquely illuminating method of gathering qualitative data.
Smithsonian Learning Lab
Smithsonian Learning Lab puts the treasures of the world's largest museum, education, and research complex within reach. The Lab is a free, interactive platform for discovering millions of authentic digital resources, creating content with online tools, and sharing in the Smithsonian's expansive community of knowledge and learning.
Educational Uses of Digital Storytelling
The primary goal of the Educational Uses of Digital Storytelling website is to serve as a useful resource for educators and students who are interested in how digital storytelling can be integrated into a variety of educational activities.  Based at the University of Houston College of Education.
EDUCAUSE Gamechangers: Case Study 17: Stories in our classrooms: A Faculty Community of Practice as an Agent of Change
EDUCAUSE case study highlighting the early development of UMBC's digital storytelling community of practice.
7 Things You Should Know About Digital Storytelling | EDUCAUSE CONNECT
The "7 Things You Should Know About…" series from the EDUCAUSE Learning Initiative (ELI) provides concise information on emerging learning practices and technologies.
Photobus
This site highlights the current work of Daniel Meadows, the creator of the BBC Capture Wales project.
Royalty-free Media
Sound Sources
Image Sources
Resources for Teaching
Rubrics from UMBC Faculty
Rubrics from Other Sources
Software and Online Tools