Baltimore Traces Project Highlights SOWEBO Neighborhood
A part of UMBC's ongoing Baltimore Traces Project. A Walk Down West Baltimore Street features historical research and fieldwork on the 1000 to the 1500 blocks of West Baltimore Street. The final products include a public history zine and video stories. The semester's work culminated   in a public screening and walking tour on Saturday, May 18, 2019.
The project was a collaboration between two UMBC courses during spring 2019: American Studies 422 "Preserving Places, Making Spaces in Baltimore" and Media & Communication Studies 484 "Production Fellows." AMST 422 is an applied research course that addresses the importance of place to the diverse history and culture of Baltimore by developing innovative preservation and public humanities projects. MCS 484 students created short videos based on interviews conducted as part of the cultural documentation project.
Stories from West Baltimore Street
Sarah Littlepage WBS
Curtis Eaddy WBS
Brooks Long WBS
Lisa Gee & Lonnie Combs WBS
Cecil Clarke WBS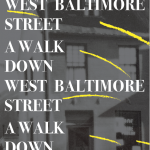 AMST 422: (Prof. Nicole King) DeAndre Bright, (teaching assistant) Dawn Baskins (SOWK), Olivia Grimes (INDS), Zack Herd (AMST), Shadia Musa (AMST)
MCS 484: (Prof. Bill Shewbridge) Tony Cano, Adam Czarnecki, Daniel Eiskant, Christian Howe, Kenneth M'Balé
Baltimore Traces Fellows (alumni): Adam Droneburg (AMST) + Markele Cullins (VARTS, graphic designer for the zine)